PIKE PLACE MARKET More than 10 million people visit Pike Place Market each year—and for good reason. Among Seattle's top attractions and one of the oldest continuously operating farmers markets in the nation, Pike Place Market is bursting with fresh seafood and produce, seasonal flowers, artisan crafts, and tempting eats. Attendees can watch fish tossed through the air at Pike Place Fish, leave their mark on the famous Gum Wall, grab a pint at Pike Brewing Company, order a latte from the Starbucks that started it all, and clap along to a busker's foot-stomping set.

SPACE NEEDLE & SEATTLE CENTER It's easy to spot the iconic 605-foot-tall Space Needle. To get a breathtaking experience from the top, visitors take a 43-second elevator ride to the observation deck for stunning views of downtown, the Cascade and Olympic mountain ranges, and Elliott Bay. In the surrounding Seattle Center, some of the city's most popular attractions—renowned glass art at Chihuly Garden and Glass, an IMAX theater and tropical butterfly house at Pacific Science Center, music and pop culture exhibits at The Museum of Popular Culture, and philanthropy-focused galleries at Bill & Melinda Gates Foundation—can fill the rest of the day or more.
PROFESSIONAL SPORTS Sports fanatics have plenty to cheer for while they are in town. Fans can watch the Mariners go to bat at Safeco Field or head to neighboring CenturyLink Field to catch the recent Super Bowl–winning Seahawks and soccer's top-ranked Sounders FC as the teams hit the turf. Both stadiums also offer behind-the-scenes tours throughout the year. And at Seattle Center, the NBA's Seattle Storm hoop it up at KeyArena, while soccer's leading ladies from the Reign FC take to the pitch at Memorial Stadium.

DOWNTOWN WATERFRONT The 1.5-mile stretch of Seattle's waterfront, which just completed a set of improvements, boasts an array of attractions and endless ways to drink in the city's sublime weather and gorgeous views. Attendees can nosh on seafood—like succulent crab at The Crab Pot or freshly shucked oysters at Cafe 56—or stroll from pier to pier for boat tours from Argosy Cruises, scenic heights on the Seattle Great Wheel, and aquatic cuteness at Seattle Aquarium.
WINE, BEER & SPIRITS Washington is the perfect place to raise a glass. It's the second-largest producer of premium wine in the nation and the state with the second-highest number of craft breweries. Visitors needn't venture far to sample local varietals—there are more than 25 urban wineries in Seattle alone.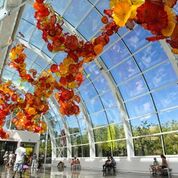 MUSEUMS & ART Named the top city in the nation for culture, Seattle has dozens of museums that let visitors admire everything from vintage aircraft to geeky artifacts to priceless paintings. Find masterpieces from around the globe at Seattle Art Museum, the best of Asian works and artifacts at Seattle Asian Art Museum, stirring modern art at Henry Art Gallery, unique sculptures and paintings at Frye Art Museum, and whimsical public art at Olympic Sculpture Park. The Living Computer Museum is all about tech with its historic mainframes and restored computers, while the Museum of History & Industry draws on the region's rich past and maritime heritage. Just south of downtown, the Museum of Flight draws crowds with more than 150 air and spacecraft, plus NASA's space shuttle trainer. And a 45-minute drive north, the Future of Flight Aviation Center & Boeing Tour gives visitors an exclusive look at 747s, 777s, and 787s being assembled on the factory floor.
NORTHWEST FOLKLIFE FESTIVAL
For over 40 years Northwest Folklife has produced the annual Northwest Folklife Festival, a celebration of musical and artistic traditions at Seattle Center that is now the nation's largest community-powered arts festival. May 26-29, 2017 are the dates for the 46th Annual Festival, presented by Seattle Cancer Care Alliance.

LINKS for ATTRACTIONS Argosy Cruises 1101 Alaskan Way (Pier 55); argosycruises.com • Bill & Melinda Gates Foundation 440 Fifth Ave N; gatesvc.org • Cafe 56 1201 Alaskan Way (Pier 56); elliottsoysterhouse.com/cafe-56 •CenturyLink Field 800 Occidental Ave S; centurylinkfield.com • Chihuly Garden and Glass Seattle Center; chihulygardenandglass.com • The Crab Pot 1301 Alaskan Way (Pier 57); thecrabpotseattle.com •Museum of Popular Culture Seattle Center; www.mopop.org • Frye Art Museum 704 Terry Ave; fryemuseum.org • Future of Flight Aviation Center & Boeing Tour 8415 Paine Field Blvd, Mukilteo; futureofflight.org •Gum Wall 1428 Post Alley • Henry Art Gallery 15th Ave NE and NE 41st St; henryart.org • KeyArena Seattle Center; keyarena.com • Living Computer Museum 2245 First Ave S; livingcomputermusuem.org •Memorial Stadium Seattle Center; seattlecenter.com • Museum of Flight 9404 E Marginal Way S; museumofflight.org • Museum of History & Industry 860 Terry Ave N; mohai.org • Northwest Folklife Festival Seattle Center www.nwfolklife.org/festival • Olympic Sculpture Park 2901 Western Ave; seattleartmuseum.org • Pacific Science Center Seattle Center; pacificsciencecenter.org • Pike Brewing Company 1415 First Ave; pikebrewing.com • Pike Place Fish 86 Pike Pl;pikeplacefish.com • Pike Place Market First Ave and Pike St; pikeplacemarket.org • Reign FC reignfc.com • Safeco Field 1250 First Ave S; seattle.mariners.mlb.com/sea/ballpark • Seattle Aquarium 1483 Alaskan Way (Pier 59); seattleaquarium.org • Seattle Art Museum 1300 First Ave; seattleartmuseum.org • Seattle Asian Art Museum 1400 E Prospect St; seattleartmuseum.org • Seattle Center 305 Harrison St; seattlecenter.com • Seattle Great Wheel 1301 Alaskan Way (Pier 57); seattlegreatwheel.com • Seattle Mariners mariners.com • Seattle Seahawks seahawks.com • Seattle Stormstorm.wnba.com • Sounders FC soundersfc.com • Space Needle Seattle Center; spaceneedle.com • Starbucks 1912 Pike Pl (original location); starbucks.com • Woodinville Wine Countrywoodinvillewinecountry.com •